Youth Pastor
$55,000 plus USD / Year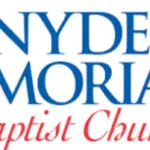 Website Snyder Memorial Baptist Church
Full-Time Student Pastor Fayetteville, North Carolina
Snyder Memorial Baptist Church Full-Time Student Pastor Fayetteville, North Carolina
Snyder Memorial Baptist Church in Fayetteville, North Carolina is seeking a full-time student pastor.
Job Description
If interested, please send your resume and cover letter to info@snyderstudents.com. Thanks!
Job title
Student Minister
Job class
Ministerial
Reports to
Connections and Discipleship Pastor
Purpose statement: We exist to teach students about the God, the Bible, and encourage them to live out their faith.
Job Purpose
Create and facilitate an environment that helps students (6-12 grades) discover God, develop their faith and show Christ-like love.
Responsibilities
The discipleship and care of students (6-12 grades), connecting with their parents and helping them integrate into the other activities at Snyder Memorial Baptist Church.
Overview
Snyder Students is a vibrant student ministry composed of a middle and high school ministry, with many different opportunities for students to be discipled and use their gifts to glorify God. Snyder Students has a hundred students on its roll, which continues to increase. We are comprised of life groups, youth choir, Sunday school, dance ministry, praise band, leadership team and a strong emphasis on missions. We are looking for someone to lead our students and partner with Snyder Students' many ministries.
Our student ministry functions with Life groups as our front door, with the various ministries falling within the funnel. Life groups are an easy way to see what we're all about, and we encourage every student who comes to life groups to try out youth choir. We want every student in the youth choir to try out Sunday school and so on.
Job Description
1.    Lead a team of volunteers (30+) in creating and operating Snyder Students' services, events and Bible studies.
2.    Lead and oversee a paid ministry assistant.
3.    Plan and execute biblically accurate, culturally relevant and high-energy services for students.
4.    Create and manage the student ministry calendar, which includes Bible studies, fun events, outreach events, and missions.
5.    Lead and maintain a student leadership team.
6.    Plan and execute summer events, which include camps, missions and other activities.
7.    Recruit and train student ministry volunteers.
8.    Design, plan and conduct periodic parent meetings to meet the needs and expectations of families attending the church.
9.    Presenting a comprehensive annual budget for the student ministry and maintaining detailed records of expenditures.
10. Function as a member of the church's pastoral staff, performing baptism services, weddings, funerals, Preaching, etc., as needed.
11. Support and help with the youth choir.
12. Support and help our dance ministry (Steps of Faith).
13. Support and be available during both Sunday morning services.
14. Establish a long-term vision for Snyder to engage our students and help them become active in other elements of our church.
15. Work to connect with other churches and para-church organizations to engage in the broader church family.
16. Participate in all staff meetings and retreats.
Requirements
·     5+ years of ministry experience is preferred.
·     MDiv or a similar degree is preferred.
·     Understanding of and willingness to serve within the doctrinal commitments of the church. (https://snydermbc.com/beliefs)
·     A passion and love for students that shows itself in the community, at student activities, and excitement about their accomplishments.
·     Strong ability to lead people of varying ethnicities, socio-economic levels, and generations.
·     Experience planning and managing a budget.
·     A desire to teach and mentor youth in biblical truth.
·     Ability to pass a background check.
·     Excellent written and verbal communication skills.
·     A student of student ministry
·     An understanding of social media in how it connects with students.
·     A social media presence is consistent with a Christlike lifestyle.
·     A growing Christian faith and character.
·     A commitment to the mission of Snyder Memorial Baptist Church.
·     A Calling to Pastoral Ministry.
·     A lifestyle congruent with the biblical requirements for leaders (1 Tim. 3:1-13; 2 Tim. 2; Titus 1:5-9).
Pay
Minimum pay is $55,000 plus full benefits and retirement. Starting pay may be adjusted based on experience and education.
Learn more at https://justchurchjobs.com/job/3442